Request a Poster Today!
Share the new 2015
WILDLIFE LEADERSHIP ACADEMY poster
…at your school, your business, your hunting or fishing club, anywhere and everywhere there are youth who love the outdoors!
Email your mailing address to Program and Outreach Coordinator, Katie Cassidy, at kcassidy@wildlifeleadershipacademy.org to request one or more posters to be mailed to you!
Help us create the next generation of conservation leaders!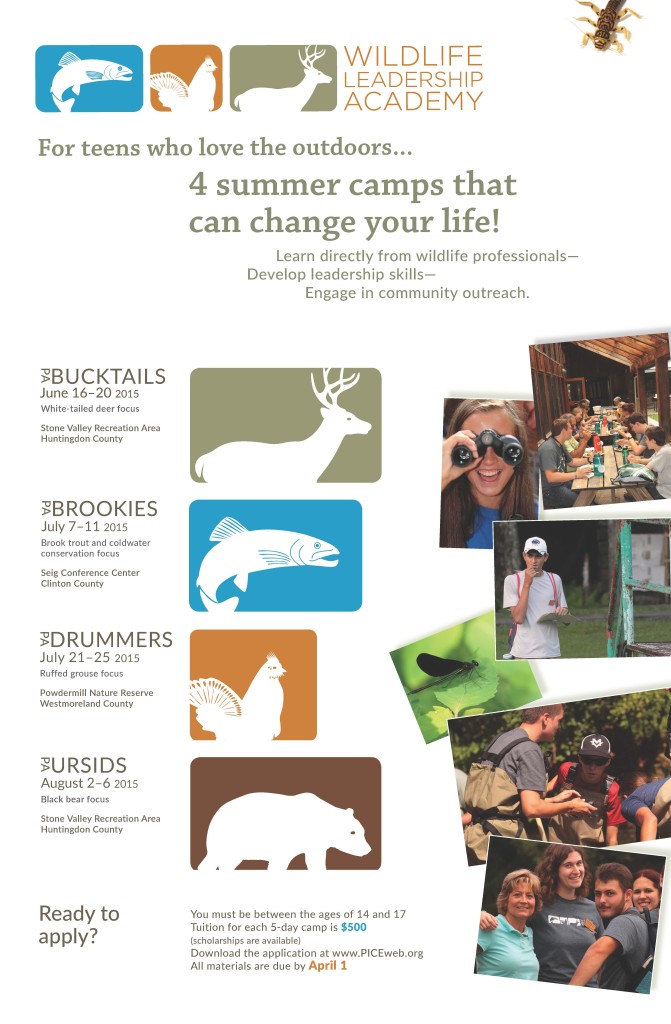 The Wildlife Leadership Academy is now accepting applications for the 2015 Field Schools, a five-day, residential camp for Pennsylvania students ages 14–17 and school teachers.  This field school is a life changing week focusing on teaching the next generation how to conserve and protect our natural resources for years to come.
TEENS: Do you have a passion for conservation and the outdoors? Do you want to make a difference in your community? Then this the program for you – it is a unique and life changing experience. You will receive hands-on training in nature, interact directly with wildlife professionals, learn the newest research and technology in the field, discover the beauty of the outdoors, and develop key leadership skills. By the end of your five days at the Field School, you will be inspired and empowered­—ready to begin your future as a conservation ambassador in your very own community.  Click here to check out the application and Frequently Asked Questions!
SCHOOL TEACHERS: Do you want to be an adult mentor for the next generation of conservation leaders? Do you want to be re-inspired by learning new techniques and tools for the classroom? Then this program is for you – you will have the opportunity to lead a team of youth to success while learning from the best wildlife and fisheries professionals in the state.
40 ACT 48 credits are available as well as college credits. Other adults interested in youth mentorship and the outdoors may also apply. Four spots are available at each field school. Adult mentors receive a full scholarship (tuition, materials, food, and housing). Background checks are required for all adult mentor applicants. Adult mentors must be 21 and over.  Click here to check out the application and learn more!
2015 FIELD SCHOOLS: Guided by the state's top biologists, professionals and sportsmen, each Field School will introduce you to the biology, habitat and conservation issues that impact a single species. *Click on the field school name below to learn more
Pennsylvania Bucktails, white-tailed deer focus
June 16-20, Stone Valley Recreation Area in Huntingdon County
Pennsylvania Brookies, brook trout and coldwater conservation focus
July 7-11, Sieg Conference Center in Clinton County
Pennsylvania Drummers, Ruffed Grouse focus
July 21-25, Powdermill Nature Reserve in Westmoreland County
Pennsylvania Ursids, black bear focus
Aug 2-8, Stone Valley Recreation Area in Huntingdon County