Because of YOU young conservation leaders are making a difference in their backyards and beyond. Thank you for making 2018 an amazing year!
Like birds of a feather…
Check out a little behind-the- scenes video from the end of our PA Drummers field school where students share a thank you to their parents and celebrate what they've learned via their conservation cadences! Then, celebrate with us, some of our 2018 accomplishments below!
---
Field School By the Numbers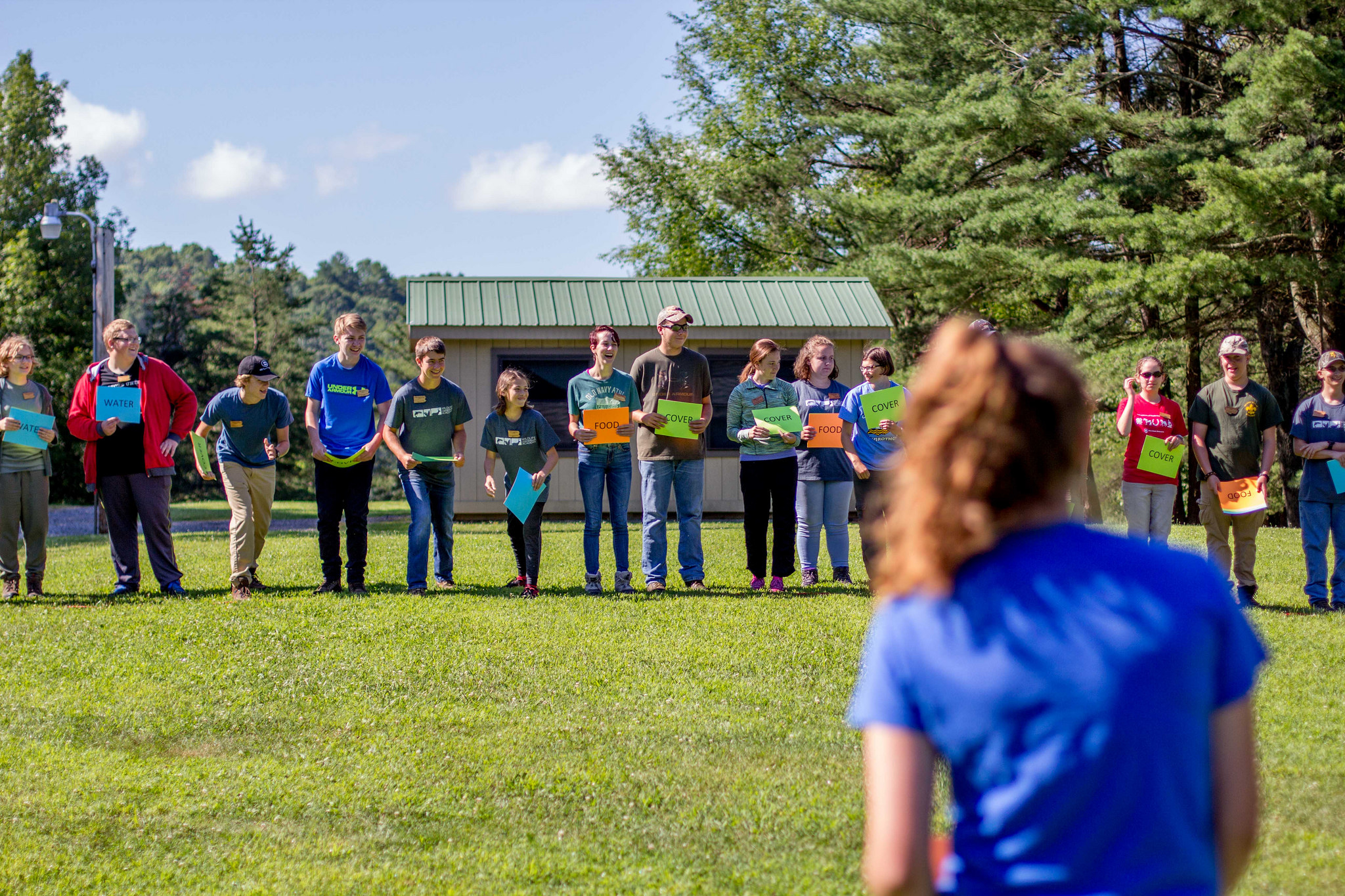 **Above students are having some fun with an activity that teaches the importance of food, water, and cover to deer!
This summer, we offered high-achieving youth ranging in age from 14-to 17-years old a comprehensive study of Pennsylvania's wildlife and fish species at five field schools: 
Pennsylvania Bucktails, focused on white-tailed deer, was June 12-16 and took place at Stone Valley Recreation Area in Huntingdon County.
Pennsylvania Bass, focused on bass and the health of the Susquehanna River, was June 26-30 and took place at Camp Oak Hill in Lancaster County
Pennsylvania Brookies field school, which focused on our state fish the brook trout, was July 17-21 and took place at the Sieg Conference Center in Clinton County.
Pennsylvania Drummers field school, which focused on our state bird, the Ruffed Grouse, was July 17-21 and took place at Stone Valley Recreation Area in Huntingdon County.
Pennsylvania Gobblers field school, which focused on wild turkey, was July 24-28 and took place at Stone Valley Recreation Area in Huntingdon County.
In total, for the 2018 Wildlife Leadership Academy field schools:
120 youth participants attended five field schools (100 new students; 20 returning youth mentors) from 49 counties across the commonwealth and two students from Maryland;
18 adults participated as adult mentors, 15 of these adults were school teachers;
8 third year students (high school age) volunteered as apprentices, supporting field school logistics;
10 Alumni (high school and college age) worked as Academy Support Team members supporting field school logistics at various field schools, 4 Alumni worked as Academy Elite, training and serving as Lead Coordinator for 4 field schools, 1 Alumni worked as Photographer /Tech Support Staff and 1 Alumni Worked as a Field School Curriculum Coordinator
4 students and 3 adult mentors received 3 college credits from Cedar Crest College for their participation in the field school; and
2 college students (Penn State University and University of Kentucky) served as summer interns for the Academy.
Wildlife Leadership Academy
Class of 2018
Conservation Ambassadors
For me, the Wildlife Leadership Academy had a huge impact on my future goals and aspirations.  Before I attended WLA, I was looking at majoring in the field of Animal Science – the WLA has solidified this choice tremendously.  While we were there we did so much work hands-on, one of my favorites was actually performing the necropsy, I love working with wildlife, and it is a dream of mine to do that as a career.  It is all because of the WLA that I am able to confidently tell others what my goals are for the future. ~Brianna B.
Youth Conservation Engagement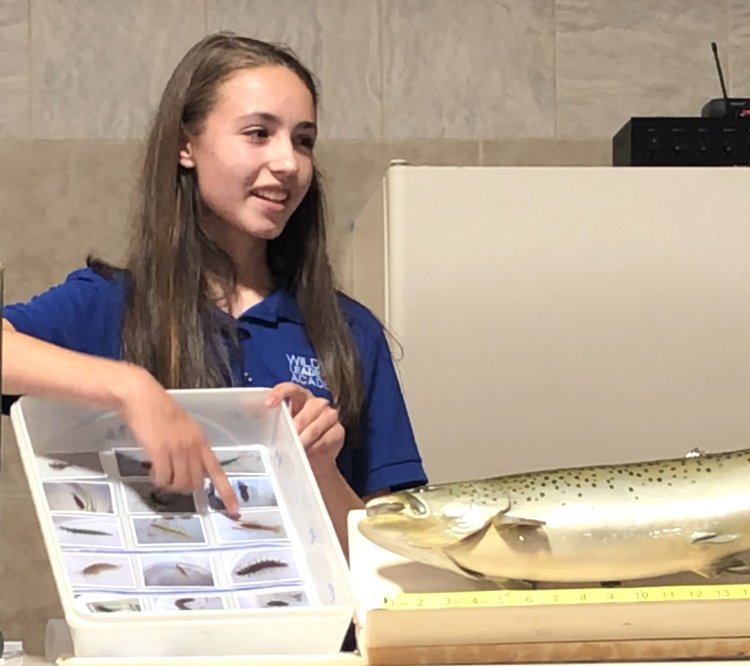 The Academy Class of 2018 is currently following through with their outreach in the areas of education, service, media engagement, creative arts, and outdoor mentorship.  The final number of projects will be recorded for this year's students in May of 2019.
An outreach report from the field via Conservation Ambassador, Mackenzie (above):
The knowledge I've gained though my field school experience has enabled me to really involve myself in outreach. In the month of August I hosted a five stand shoot at my local Sportsman's Club in Orangeville. A raffle basket the club helped in putting together with the shoot itself earned enough money to send a youth next year! Also during the month of August I presented my story and field school experience at a Youth Field Day and talked to the kids about the meaning of conservation. In the month of September at the Bloomsburg fair I gave a 15 minute demonstration in the educational building. I demonstrated aging Bass, performing gastric lavage, and how to collect macroinvertebrates. I plan to teach an Environmental Science class I completed last year at school once we get to aquatics.  I also have a scheduled fishing trip in the near future with a young lady my age who is blind.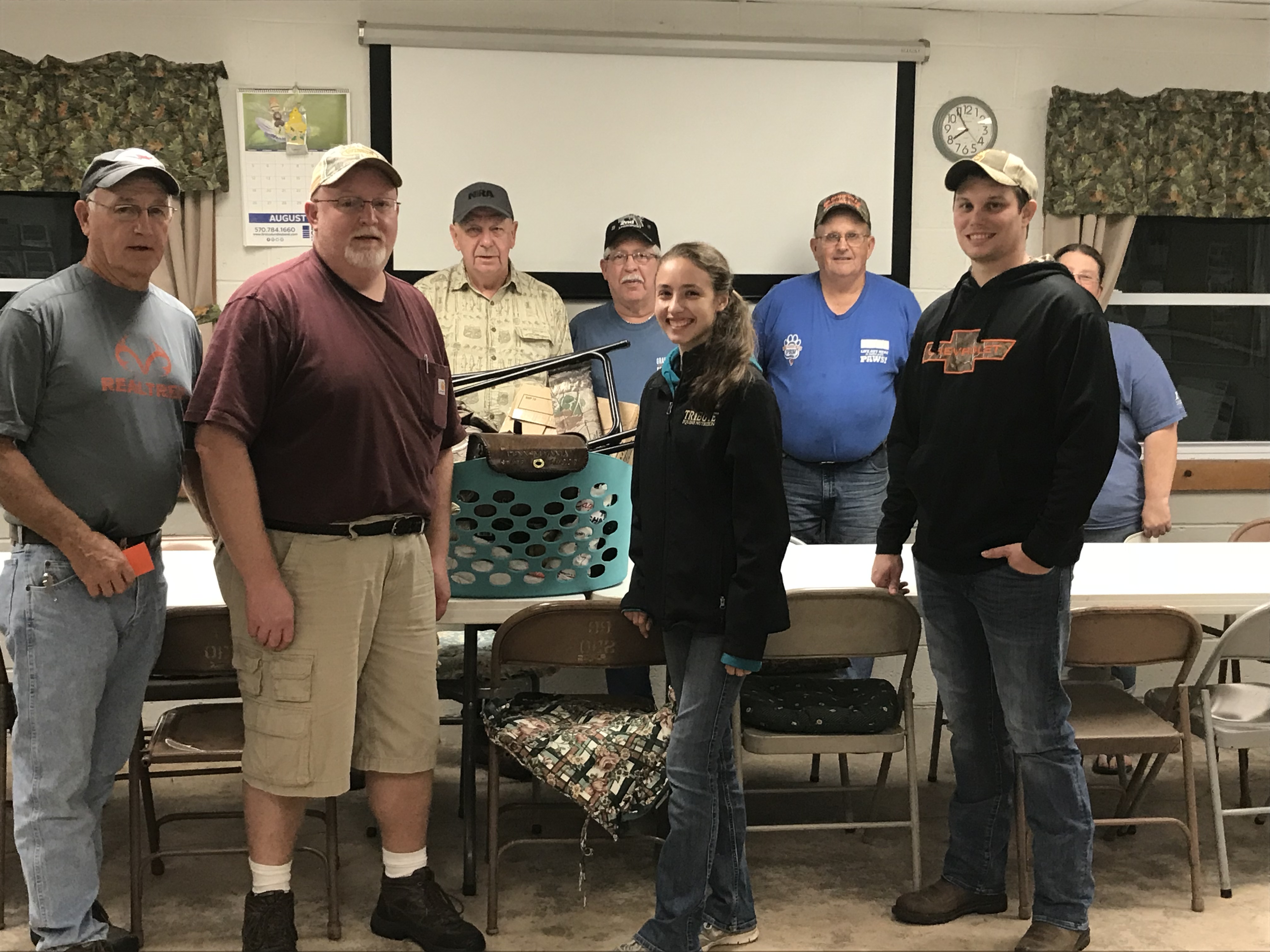 YOUR SUPPORT has allowed us to motivate and engage all of our young leaders like Mackenzie who go above and beyond to give back to their communities. Thank you!
To date, as we celebrated our 12th class of Conservation Ambassadors in 2018, the Academy has enrolled 569 youth from 62 counties across the state. These Conservation Ambassadors have conducted 4,194 outreach projects, engaging in over 16,000 contact hours with the public and reaching an audience of over 72,000 people across the state.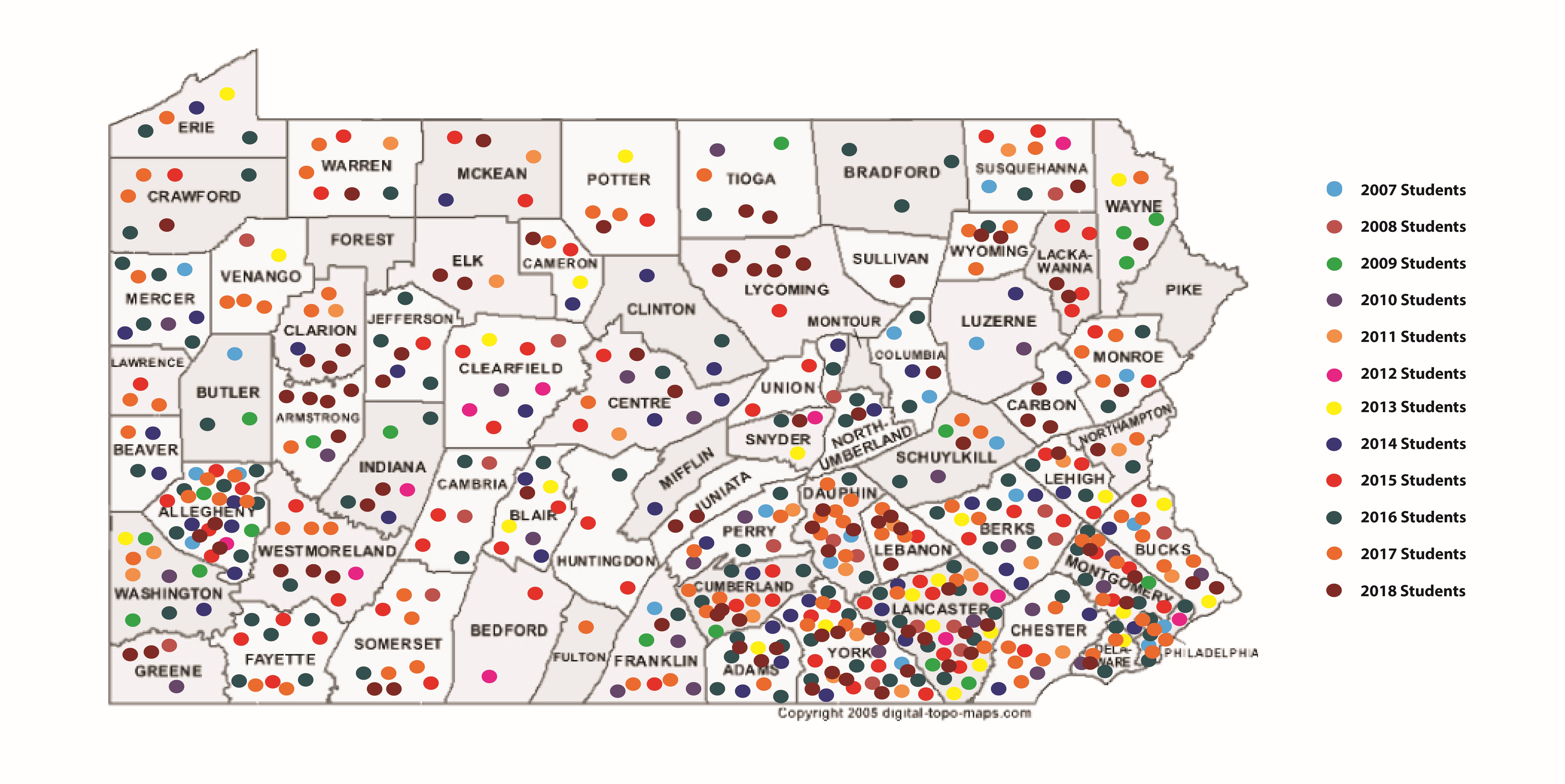 FROM HIGH SCHOOL TO COLLEGE TO CAREER
Whether our students become biologists or engineers or writers, we aim to serve these conservation leaders as they grown from teens into young adults and give them the tools to be successful professionals and thoughtful, informed citizens.
HIGH SCHOOL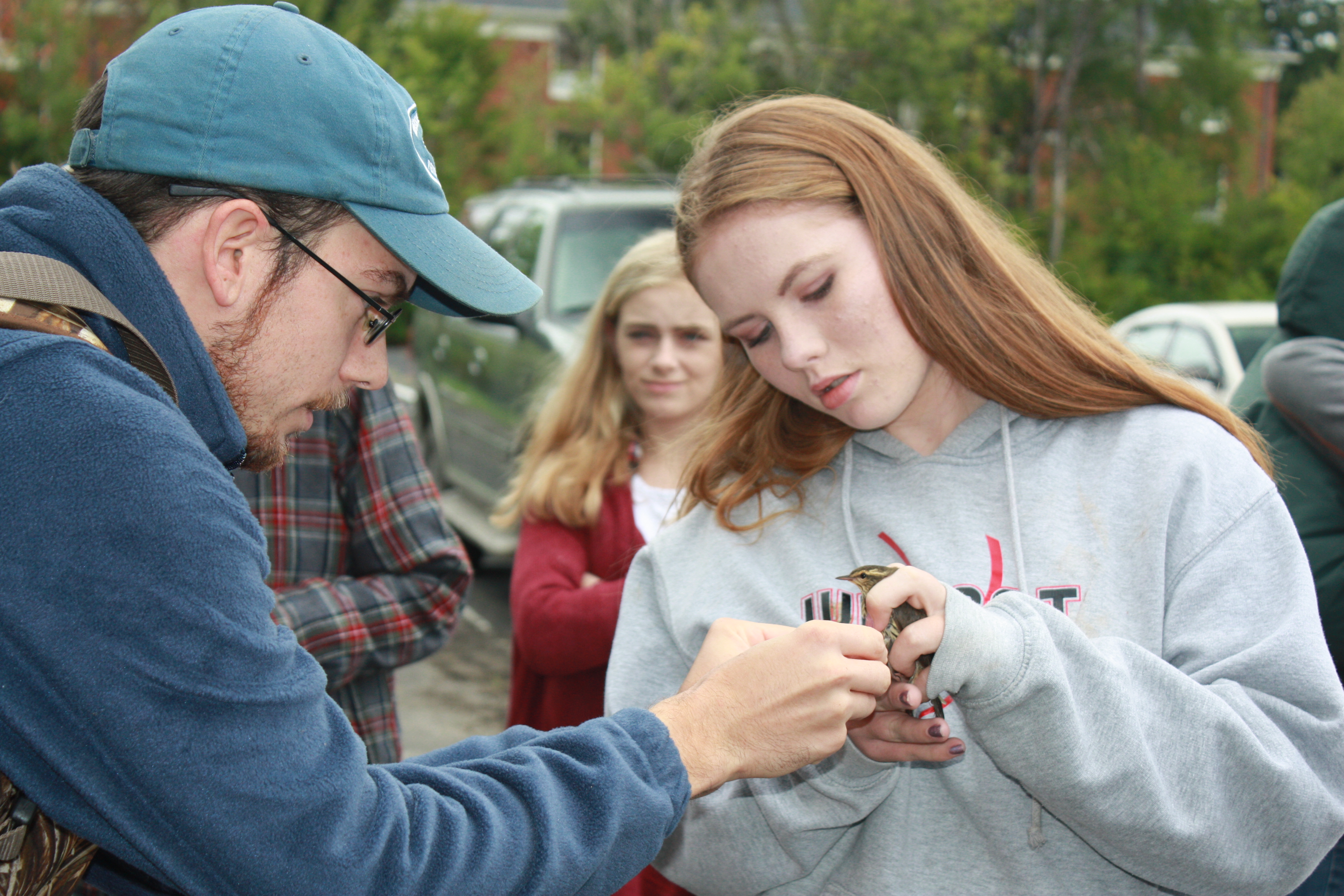 **Ashley B. learning how to band a bird at our PSU Dubois College Visit Day!
Engagement opportunities post-field school, led by Program and Outreach Coordinator Katie Cassidy, serve to not only motivate students to give back to their communities but to enrich their lives as well.  These opportunities include: 
A Monthly E-newsletter: A monthly e-newsletter is sent to all participants including tips for community outreach, a "student of the month", and timely engagement opportunities.
Video Conference Workshops: Three video conference calls are offered to all participants on mentoring, volunteering and a community outreach wrap up/how to stay involved with the Academy.
NextGen Blog Correspondent Opportunities: Students are recruited to write for the Academy's weekly NextGen Blog each year. To date, 202 youth-written blogs (and counting!) have been published focusing on varying conservation subjects.
College Visit Days: The Academy partners with several universities on college tours created exclusively for Academy students. Several tours took place this fall to

PSU Dubois (Wildlife Technology program),
Susquehanna University (Biology Department) and
**new for this year** Chatham University's Eden Hall Campus (Sustainability program).  In all cases, Academy students were taken on special tours (i.e. bird banding, fisheries lab) to see the unique opportunities these colleges offer.

Professional Meeting Attendance: Students are offered the opportunity to attend various professional meetings. Students who have submitted their Outreach Record Books for check-in this November, will be invited to attend The Wildlife Society, PA Chapter conference in the spring of 2019. In addition, eight students attend this year's PA Botany Symposium in November!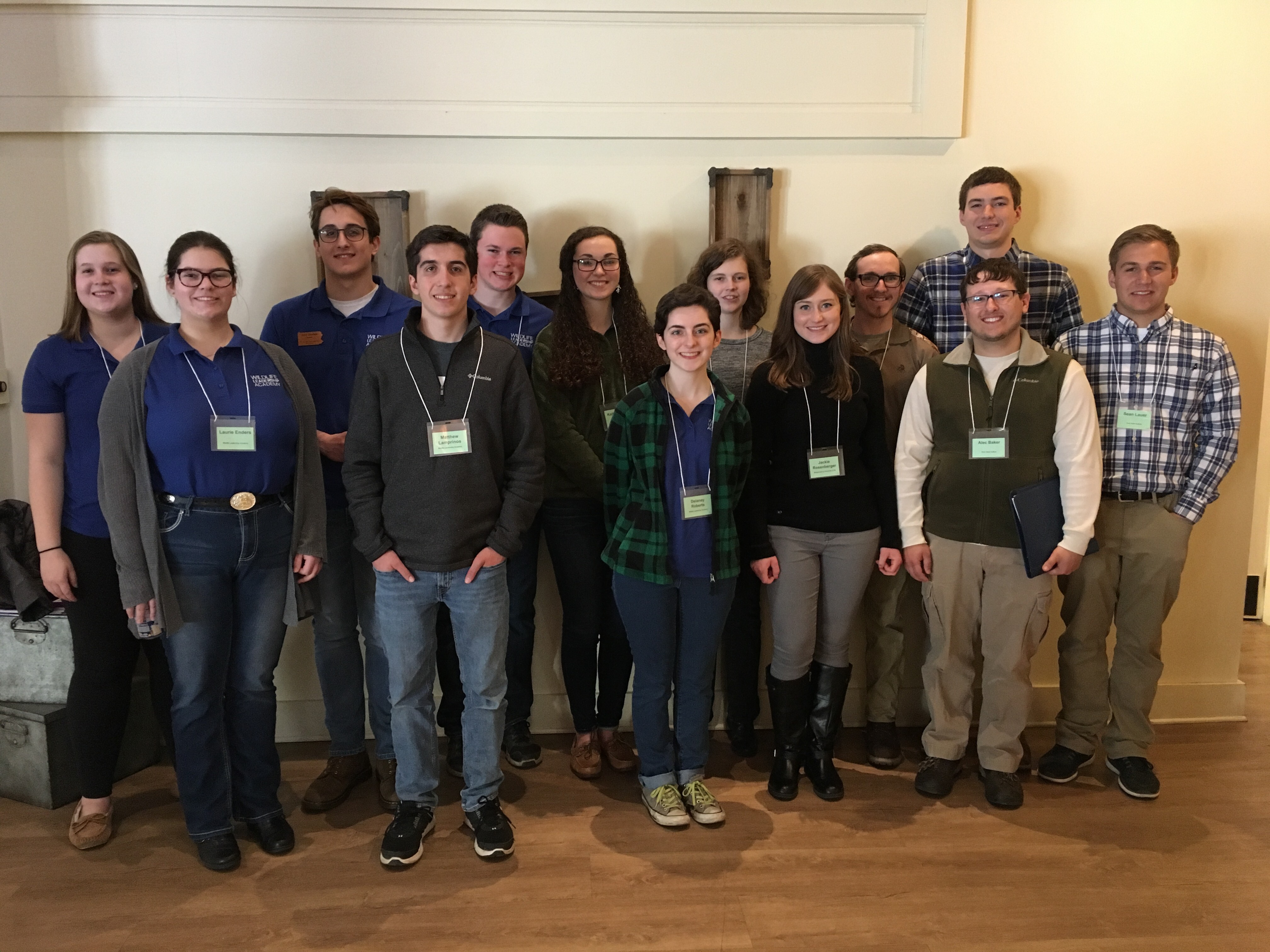 **Academy students from college age to this last year's class at The Wildlife Society, PA Chapter meeting this past spring – amazing young conservation leaders!!
COLLEGE TO CAREER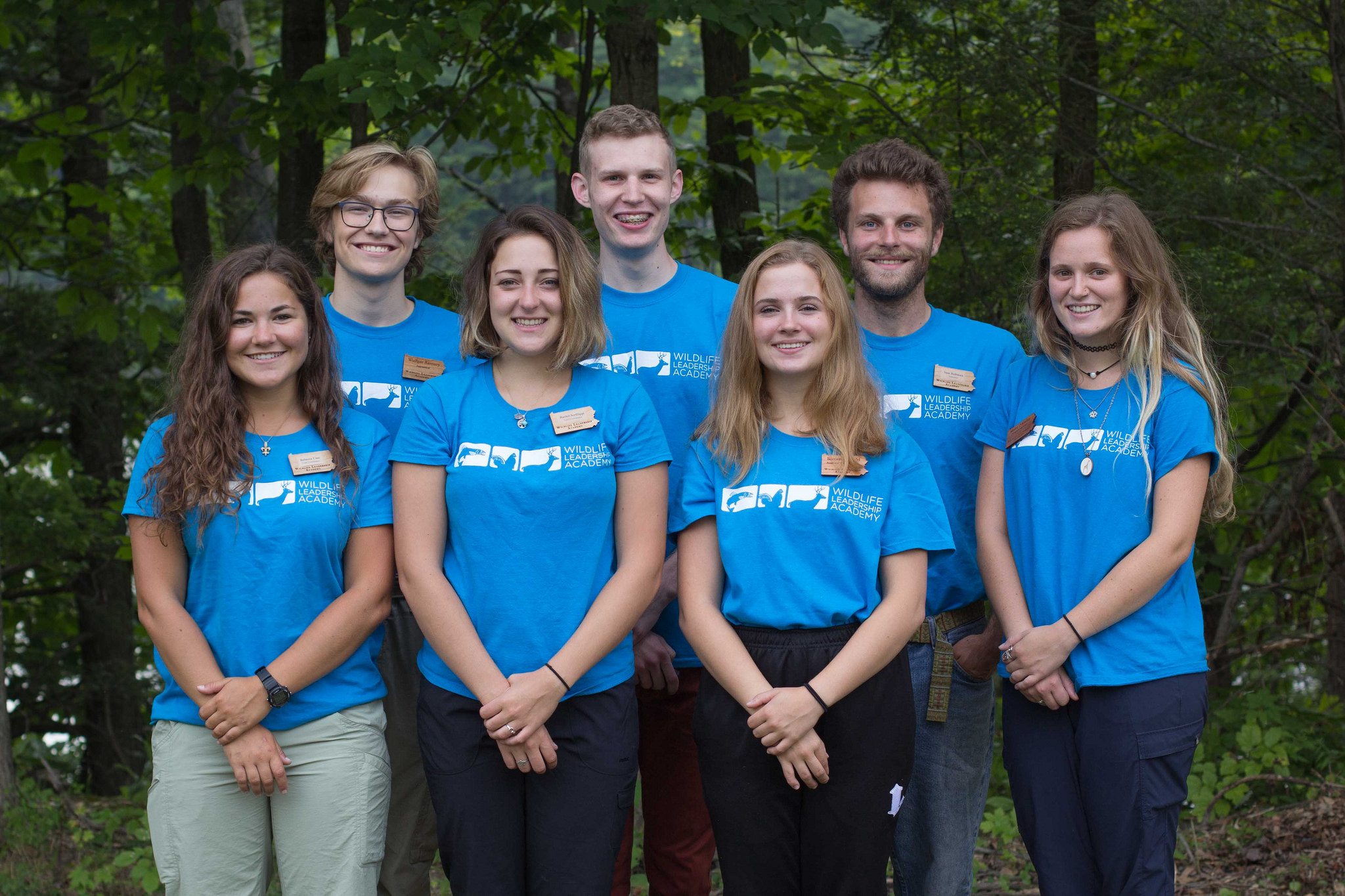 **PA Drummers Staff Team – Alumni serving as Lead Coordinators, Tech Support and more this past summer!
As our students grow from high school to college, support from the Academy staff includes:
Job References:  In addition to verbal job references, between, Director Michele Kittell, and Program and Outreach Coordinator Katie Cassidy,  multiple reference letters for 60+ Academy Alumni have been written for jobs, scholarship opportunities, and college applications.
Job Experience: High school and college age Alumni may apply to serve as summer staff (aka "Academy Support Team" members).  These students gain training in field school logistics, leading team building activities, and teaching various natural resource subjects. In addition, selected based on maturity and leadership potential, Alumni can train and become "Academy Elite" and serve as Lead Coordinators taking on the more advanced role of leading the week of field school and being responsible for staff, program logistics as well as risk management and safety.
Career Counseling:  Informally, Academy staff have been coaching our students through high school to college / college to career transitions since the programs inception. In 2019, our goal is to activate our Academy Alumni Network by providing for more formal career support including posting job announcements, having regular Q&A opportunities in our online group and providing an in-person career counseling workshop at our Annual Academy Reunion.
What do you want to be when you grow up?" Since I can remember, I have had a passion for the outdoors. I have bounced among different career plans. I've thought about being a park ranger, science teacher, zoologist, marine biologist… you get the idea. Attending the Wildlife Leadership Academy has solidified my interest in wildlife. In the fall, I plan to attend Penn State, majoring in Wildlife & Fisheries Science. I like to call myself a Future Wildlife Biologist. ~ Eileen, C.
POWER IN PARTNERSHIP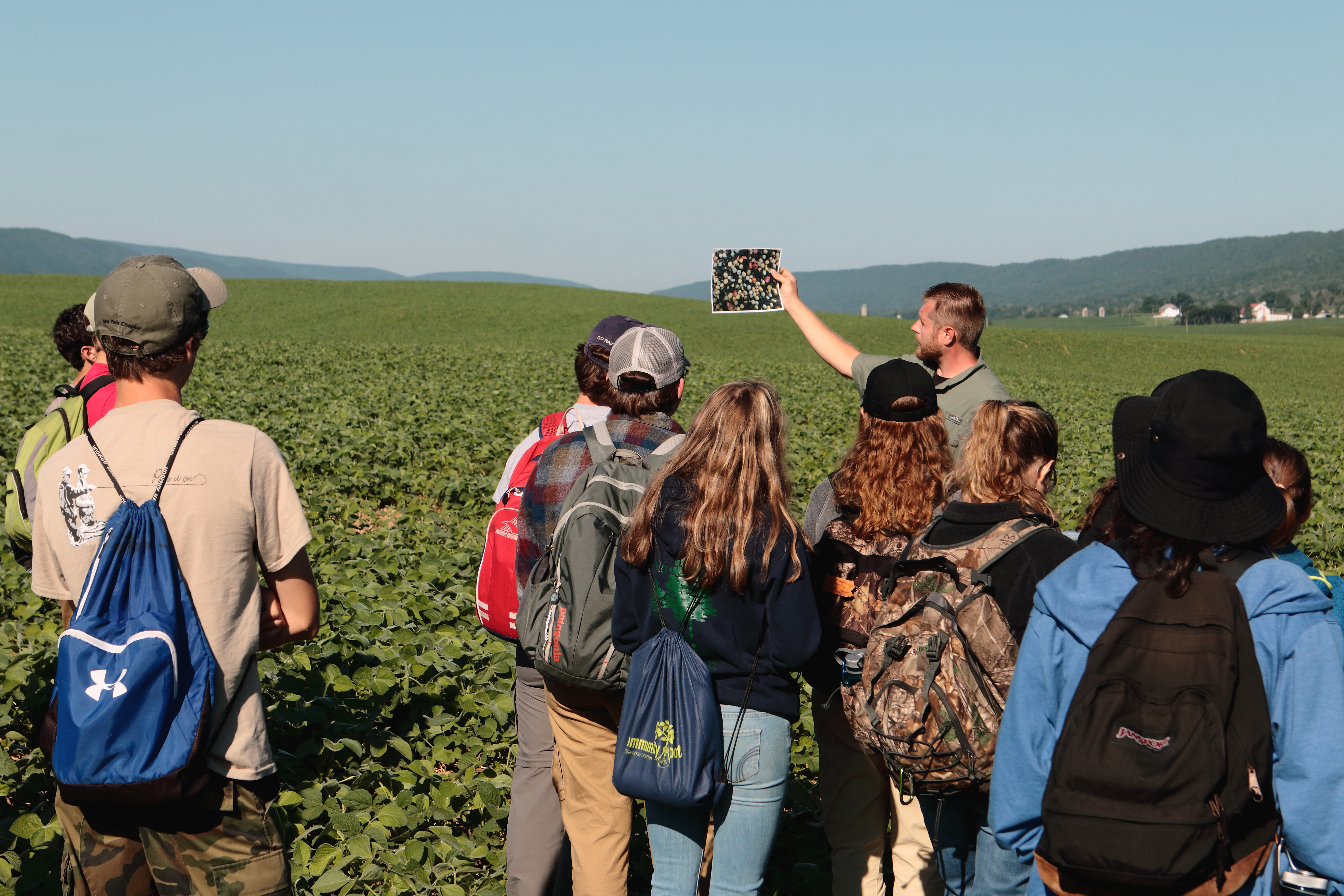 **Scott Koser from Clinton County Conservation District teaches PA Brookies students about farming efforts that support watershed conservation efforts.
Our framework of AMAZING partners allows us to accomplish more than we ever could alone.  From individuals to organizations – their invest of time, material, and/or financial support gives our students a high quality educational experience that positively impacts them personally and professionally throughout their life.  
Some of our partners this year included: Advanced Telemetry Systems, Inc., Clinton County Conservation District, PA Department of Conservation and Natural Resources, PA Department of Environmental Protection, Kutztown University, National Wild Turkey Federation – PA Chapter, Pennsylvania Fish and Boat Commission, Pennsylvania Game Commission, PA Conservation Heritage Project, PA Outdoor Writers Association, Pennsylvania State University, Penn State Extension, Quality Deer Management Association – PA Council and Branches, Ruffed Grouse Society, The Wildlife Society – PA Chapter, Trout Unlimited – Pennsylvania Council, Trout Unlimited – Lloyd Wilson and Spring Creek Chapters, Tylersville State Fish Hatchery, Lancaster County Conservation District, Mid-Atlantic Youth Anglers, Stroud Water Research Center, US Fish and Wildlife Service and USDA-APHIS. Click here to see a full list of our partners and sponsors.
Professional, volunteer, and other in-kind service estimated for the Wildlife Leadership Academy program in 2018 include:
Professional Services (i.e. PGC, PFBC, other consultants serving as instructors) – 471 hours of support with an estimated cost as $14,753;
Volunteer Services (i.e. adult volunteers at field school, student volunteers) – 2,198 hours of support with an estimated cost as $54,268; and
Other in-kind support at an estimated cost of $18,789 includes items such as a Federal Work Study student from Bucknell University, printing of education binders for students by PGC and PFBC, and radio telemetry equipment donation.
I live in a middle-class suburb outside of Pittsburgh, PA.  Most of my friends spend their time on their phones, computers, and doing homework.  Unlike most of them, I have always loved being outside, whether I was fishing, hiking, or more recently rowing crew.  Attending Brookies two years ago changed my life because for the first time I met people outside of my family that shared my passion, my love for the outdoors.
Thank you again for helping make 2018 an impactful year!  It's never to late to give and help us continue to impact the lives of these young conservation leaders. 
You are truly making a difference with your support!