December Student of the Month – Liz Grassi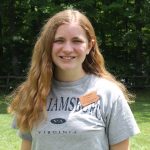 Liz Grassi, a Gobblers alumni, is our featured outreach Student of the Month for December!  She has been working hard since her turkey-focused field school, and submitted her record book for the Early bird check-in date, earning her an invitation to attend the PA Chapter of the Wildlife Society's annual conference.  Among her many accomplishments are an incredible nature photography portfolio, attending a conference on global warming (and how to address the issue), keeping an extensive nature journal, and taking friends hiking – and making sure they are prepared with the correct equipment, as well as identifying flora and fauna along the hike.
Liz has taken her role as a Conservation Ambassador seriously, and has not only encouraged others to get outdoors, but has helped support the next class of conservation leaders by participating on our student-driven Pay It Forward fundraising campaign.  Sharing her passion for the outdoors by sharing her knowledge about the plants and animals they find along the way when hiking is just one more way that Liz is inspiring others to get outside and get involved!  Well done, Liz!