Tiny Moments at Grand Teton National Park
Rebecca, a new monthly blog correspondent and Ursids alumni, reminds us in her blog this week that, even when we are caught up in the grand, sweeping landscapes, there are little moments that are just as sweet to enjoy!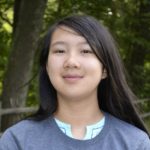 Last summer, we visited Grand Teton National Park. As one might guess, the view there was breathtaking with anything we saw there enhanced by the mountainous backdrop. Everything about Grand Teton was, well, grand. But there was one particular moment that stands out in my memory, one much smaller than the Tetons.
We were driving along the outskirts and taking a scenic route to look at the land down below. There was a rest stop we parked at to take photos. I spotted a hummingbird feeder nearby, the same kind you'd find at a gardening supply store. I had seen a few of these back home, but they were never successful in attracting their intended birds. This feeder, however, attracted around ten hummingbirds who furiously beat their wings, fighting the strong winds to earn a spot on one of the eight perches available on the feeder. The little birds seemed helpless against the gusts, but they continued to persevere. I thought this was an interesting moment, something tiny in the midst of the vast landscape of Grand Teton.