Trout Tales: A Few Notes on the First Days of the 2016 Trout Season
It's trout season! This week, Eli, a Brookies and Ursids alum, journals the first few days of trout season. Read about his fishing adventures and maybe learn a thing or two from his experience! 
The first day of trout season and the week that follows it are often some of the most exciting and challenging days of the fisherman's calendar. Cold weather, storms, crowded streams, and trying to get as much fishing in as possible in between work and family commitments has spawned countless tales of anglers overcoming adversity to pursue their obsession.
For me, the start of this year's trout season became one of those tales. I was plagued by everyone of the aforementioned adversities and then some. But nonetheless, I was able to overcome and get my trout season off to a good start.
April 2nd: Opening Day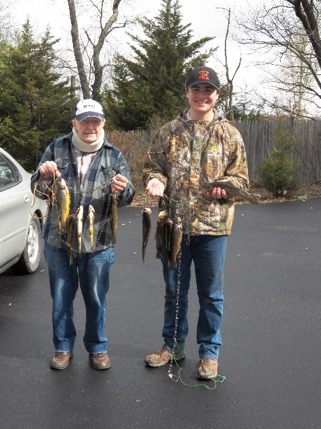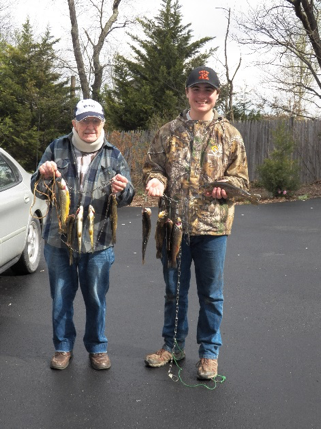 At 5:00 on the dime, the alarm clock let out its shrill ring prompting my grandfather and me to flip out of bed and rushed out the door. To me, the nostalgic rush out the door on opening day is almost as much of a tradition as the fishing itself. This year, as always, we were heading to the walk-in hole at Latimore Creek to start off the season. As we pulled into the parking area, we were greeted by the longest line of pick-up trucks we had ever see. At 5:30, we arrived at the unusually crowded hole and took up our usual spot on the bridge.
"7:58 nah it's 7:59… oh close enough let 'er rip", and with that trout season began. For about the first five minutes or so, the hole was alive with the sound of splashing fish and jeering anglers. In that time, I harvested my first three trout, all of which were over 10 inches. But as usual, the bite shut off as the "moron trout" were taken, and it took the next two hours for me to limit out. The last, and biggest, of my five trout was a 13 inch brown trout. I caught it after laying down on my back and sliding up under the bridge to cast up underneath. Since there were so many folks at the hole, most of the trout in the main pool were caught out leaving the trout under the bridge as the "lone survivors". With the last trout on my stringer, I called it a day and prepared for the next day.
April 3rd: Second Day of Trout Season
The second day of trout for me was a testament to my obsession. Despite the 50 mile per hour winds and bone chilling temperatures, I was out on Latimore Creek by 9:30am. To deal with the unfavorable conditions, my normal fishing garb was supplemented with gloves, a knit hat, and ski mask. Although fishing was hard, the allure of big trout and no crowds was enough to keep me going.
As I rounded the first bend in the creek, I came to a promising hole in which I landed my first trout of the day-a 12 inch brown trout. However, my early success proved to be a fluke. As I continued downstream fishing at every hole, I was unable to catch another trout until around noon when I finally landed a small brookie.
That afternoon seemed to play out much like my morning. Each hole I fished was loaded to the brim with tight-lipped trout, but nonetheless I kept on fishing. As the afternoon wore on and my patience grew thin, I finally came to the last promising hole of the day and casted in…. Whack! A monster rainbow trout came out and hit my minnow. After recovering from a shaking spell, I cast back into the hole and hooked into him! After a short battle, I landed the beast. It was a 18 ½ inches and by far the largest trout in the hole. At that success, I called it a day.
April 4th: Third Day of Trout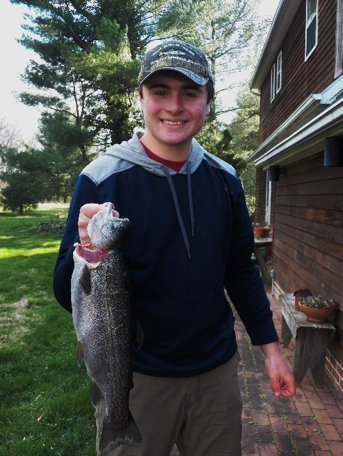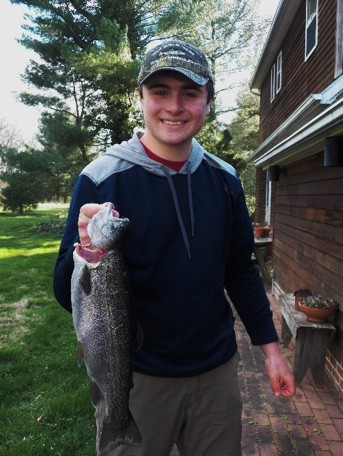 Back to reality. Now that the weekend was over, all my fishing had to be cramped into two short hours between school and meetings. Nonetheless I was able to get out and do some fishing.
I arrived at the creek around 3:30pm and started fishing in the area where I caught the "big boy" the day before. As I came into the first hole, I landed a brookie and a brown in quick succession. But as with any good hole, I soon attracted unwanted company. Before I knew it, someone was fishing right over top of me. At that, I moved down stream into a patch of woods.
In the woods, there were a number of nice holes with fish, but all of them were tight- lipped. Despite my best effort, I was only able to land one small 8 inch Brookie. By that time, I had to leave for a meeting and my fishing was over.
In these days some people may wonder why one would go to such extremes and put up with such adversity to pursue trout. For me, it is the thrill of the adventure and the allure of the unknown that keeps dragging me to the stream. This obsession is the driving force behind why I go fishing and something that has only one cure-"Gone fish 'in."