Reports from the Field: Snowy Owl
PA Brookies student Logan recently sent me an email to share his very exciting wildlife encounter.  He wrote: Last week I was fortunate enough to observe two Snowy Owls in the wild and was hoping to share my experience.  In his words…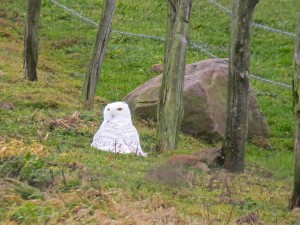 Every winter, Snowy Owls migrate from the tundra regions of Canada and Greenland to areas with less harsh conditions.
This year, the number of Snowy Owls is higher then ever before due a surplus of lemmings and voles in the tundra, and because of their high numbers, the birds are migrating farther south.  Snowy Owls are the largest owl species in North America and prefer large open spaces such as fields and shorelines.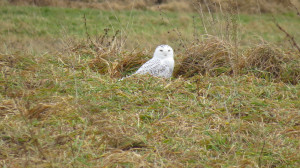 As of December 27, Snowy Owls have been spotted in 31 counties across the state of Pennsylvania. I had been following sightings in my own county and on December 22nd was able to go out and look for them. I was fortunate enough to observe and photograph two Snowy Owls near New Wilmington in Lawrence County; the first was on the ground along a fence line, the second in an open field.
If you wish to learn more about the snowy owls, this article is a good place to start: http://ebird.org/content/pa/news/snowy-owls-for-christmas/.  It also includes the address for reporting your own Snowy Owl sightings.
~~~~~~~~
Applications are now available for both youth and adult mentors for the 2014 summer field schools including Bucktails, Brookies and Drummers!  Click here to learn more.