This blog post comes to us from a second-year monthly correspondent, Hannah, who is a Bucktails, Drummers, and Brookies alumni.  She has been working with her pup Bella for two years now, training her up as a bird dog.  To read the first post about Bella (and to compare photos to see how much she has grown!), click here to read Hunting Dog Training.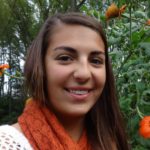 Bella, our German Short-Haired pointer, is almost two years old now. She has made a lot of progress since we first got her. Though she is still a puppy, she is a great hunter. We started her training at a local pheasant farm to get the basics started. Mark and Karen, the trainers, could not believe her natural ability when they first tested her. She was fearless. She jumped into the water to fetch a bird that started to drift off. She could track the bird and point. And most importantly, she wasn't afraid of the gun being shot over her head. That was just her natural ability through her breeding.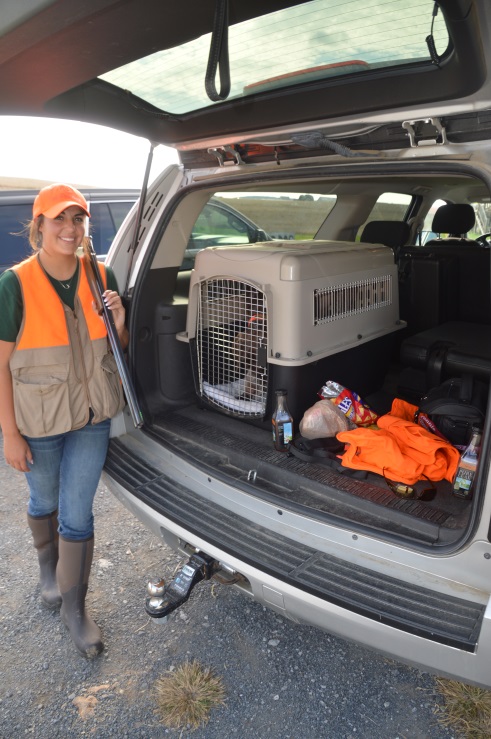 We started to take her to the State Game Lands to practice her trained skills, like whoa-ing and retrieving. Mark and Karen have also taught us a lot while training Bella. They warned us that Bella may be a little "off task" at the Game Lands, since she has never hunted there before. They were right. The first time we took her out she was so excited because it was a new place. She ran like crazy chasing the birds all around. She was easily distracted by other hunters and dogs. The first couple of times we took her she had to work out the excitement. Each time we went, however, she got better. Now when we go, she listens to us and does what she was taught to do.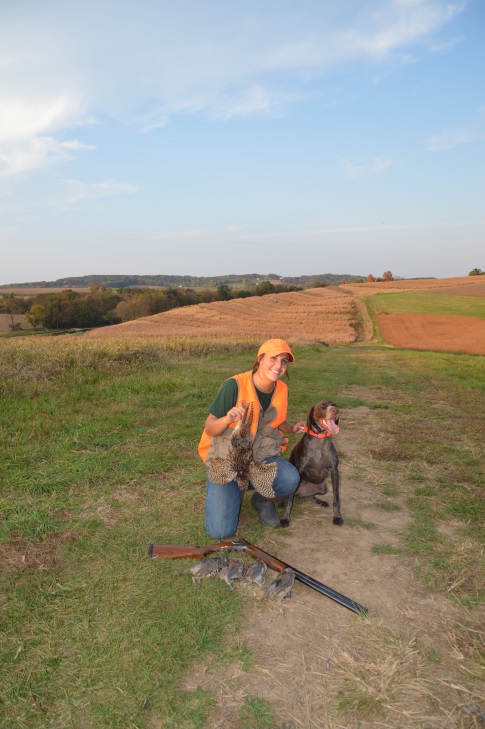 This year my dad is teaching me how to control her and hunt at the same time. I didn't realize how hard that actually is. When we go out, my dad gives me the controller and we both hunt together. It has been so much fun watching her grow into this wonderful hunting dog. Just recently we went out to the game lands and Bella started to track a bird down. She finally caught up to it and pointed. I whoa-ed her and she held point until I got there. I walked in to flush the bird out. Just like that, I went up and BAM! Down it came. It was my first male pheasant I ever got. I was so excited. Bella did a little victory lap with the bird then brought it to me.
We have had so much fun this year. We have made many different kind of dishes of pheasant. My favorite has been pheasant lasagna. I will continue to keep you updated on Bella and her progress in hunting. We are having a great time learning together.